You know those superstar bloggers that do amazing makeovers to rooms in their homes?
I'm not one of them.
Sad
.
Sometimes I find myself feeling a tiny bit depressed and jealous when I am browsing blogs and come across pictures of beautiful rooms. I would LOVE to redecorate/redo just about every room in our house, but we're on a tight budget. And, I have a 13 month old. And, maybe I'm just not that gifted.
Our precious house is (and most likely will be for the next several years) a fixer-upper. Half of it was built in the 40's, so really, I can't complain too much. It's in very good shape, just needs a little love. :)
(Gushing moment: My husband is an AMAZING handy-man. We could NOT have bought this house if the Lord hadn't have provided him with the knowledge he has! He's done so much already. I'm going to keep him.) :)


Anyway, the main reason for this post is regarding my sweet girl's closet. It's a disaster. Seriously. Right now it is doubling as a linen closet. From too-small clothes, to her old car seat, towels, sheets, blankets, toys.... it looks awful.
I've tried organizing it once, and I DID make it look a little better.... for a few days. :( I gave up halfway through the process. So, this time, I want to have a game plan.


I was going to show you a picture of what her closet looks like right now, but then I chickened out. If/when I get it looking better, THEN I'll post a before picture. ;)
Here is my 'original artwork' of how I would ideally like to organize it. Keep in mind, I'm trying to work with what I have, for the most part.
The gray section on the right side is actually behind the wall.
Step One:
We have to organize our storage closet out in the garage. Then, I can take out all of the things in her closet that need to go into storage. I think that will free up quite a bit of space and clutter.
Step Two:
I need to make some kind of toy box for M. Right now her toys are in a cardboard box. One day, I bet my husband can make her a nicer one, but I'm fine with a cardboard box right now. I just need to get a bigger, sturdier one (hello, jumbo size diaper box!) and somehow make it cute.
Step Three:
I'm not sure what all will be left after I move out stuff that needs to be stored, but I'd like to add a couple (or more) baskets to the top shelf to place miscellaneous items in. We have a few baskets already, so hopefully they will do the trick there.
Step Four:
The towels are sitting on a rolling kind of shelves rack thingy. They were all over the floor of the closet, so that is an improvement in itself! On the right side of the closet are all of our sheets and blankets. It's a mess over there. Thankfully, you can't see it since it's hidden behind the wall. I'm really not sure what the best solution for that is. I'm thinking that maybe I can bat my eyelashes at my sweet hubby to fix our (tiny) linen closet. That way, I can at least put the towels back in. Then, maybe I can move the sheets to the rack.
Step Five:
I have curtains (somewhere??) that I can hang up. They're sheer, so I'm not sure how it will look, but again, it's what I have, so I think it will make it look a little nicer.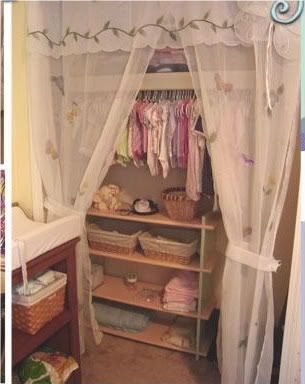 Source - This is similar to what I'm thinking about...
I think once (or if..) we get all of this done, it will looks TONS better! Maybe we can begin to tackle it this weekend. Stay tuned... ;)